Joe Biden: American Promise Tour
No upcoming concerts for Joe Biden: American Promise Tour
---
Other Upcoming Shows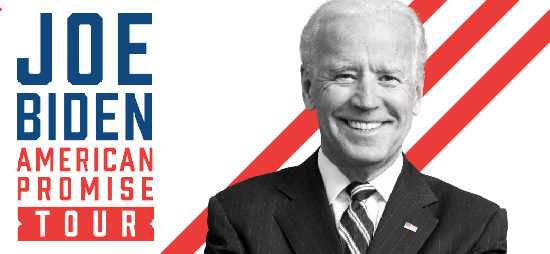 Bio
Moderator: Ambassador Samantha Power
Joe Biden has always believed that when given a chance, ordinary people can do extraordinary things. As a scrappy kid from Scranton who rose to the Office of Vice President, he is no exception. During his 45 years of public service, one of Biden's greatest strengths has been his ability to bring people together, even in crisis, even across difficult divides, all the while, respecting everybody at the table.
This fall, Joe Biden will travel the nation for his American Promise Tour, a series of conversations that will go beyond the 24-hour news cycle and 140-character arguments to connect friends and neighbors around the topics that matter most. Biden will reveal the big political moments of his career, the life-altering choices he made, and the key traits that have helped him persevere through challenges. He will share how the loss of his son Beau tested his resolve, and how he is finding new purpose in a time of uncertainty.
Joe Biden represented Delaware for 36 years in the U.S. Senate before serving as 47th Vice President of the United States from 2009 to 2017. As the Vice President, Joe Biden addressed important issues facing the nation and represented America abroad, traveling over 1.2 million miles to more than 50 countries. He convened sessions of the President's Cabinet, led interagency efforts, and worked with Congress in his fight to raise the living standards of middle class Americans, reduce gun violence, address violence against women, and end cancer as we know it.
Since leaving the White House, Vice President Biden continues his legacy of expanding opportunity for all with the creation of the Biden Foundation, the Penn Biden Center for Diplomacy and Global Engagement at the University of Pennsylvania, and the Biden Domestic Policy Institute at the University of Delaware. He is the author of Promises to Keep: On Life and Politics and the forthcoming memoir Promise Me, Dad: A Year of Hope, Hardship, and Purpose.
—
Each ticket includes a copy of Joe Biden's forthcoming memoir, Promise Me, Dad: A Year of Hope, Hardship, and Purpose (a $27 value from Flatiron Books)."
VIP Ticket includes meet & greet and photo opportunity with Vice President Biden; Signed copy of Vice President Joe Biden's new book PROMISE ME, DAD; Reserved premium ticket within best of floor section.
The VIP meet & greet will take place either immediately before or after the performance. VIP ticketholders will receive an e-mail approximately one week prior to the show with a detailed itinerary listing out all timing & instructions.
—
About Samantha Power
Ambassador Samantha Power
Ambassador Samantha Power is the Anna Lindh Professor of the Practice of Global Leadership and Public Policy at Harvard Kennedy School and Professor of Practice at Harvard Law School. Ambassador Power is a 2017-18 Fellow at the Radcliffe Institute for Advanced Study. From 2013 to 2017 Power served as the 28th U.S. Permanent Representative to the United Nations, as well as a member of President Obama's cabinet. President Obama has called her "one of our foremost thinkers on foreign policy."
Her book "A Problem from Hell": America and the Age of Genocide won the Pulitzer Prize and the National Book Critics Circle Award in 2003. She is currently writing a new book, The Education of an Idealist, which will chronicle her years in public service and reflect on the role of human rights and humanitarian ideals in contemporary geopolitics.